The world of motorsports is a data-rich domain as it combines both athlete and machine. From the timing loops that determine the positioning of the cars, to the aero data that engineers use to tune a car's setup, there is rich information available that illuminates how both the car and driver perform. It takes effort to transform these raw data points into insights that end users can interpret. While many of the brightest minds in motorsport use raw data to make optimal decisions without advanced algorithms, there are some tasks that are impractical or even impossible for humans to complete on their own. Leveraging AI allows for the automation of these tedious tasks, ultimately saving time and uncovering new information for more wins on the track.
The incredible power of AI is just beginning to be realized across the data-rich environment of motorsport. At Valkyrie, our scientists are working to enhance the motorsport fan experience, optimize race team processes, and develop new AI-powered tools for motorsports teams. Formula 1 and NASCAR are leading this charge by leveraging advanced data science and AI techniques for the sport that has been driven by human decision-making for decades. By partnering with United Autosports and Radio Le Mans, Valkyrie aims to bring new AI capabilities to endurance racing, a sport that is on the precipice of becoming truly data-driven.
How Do Both the Fans and Teams Benefit From These New Innovations?
What the Fans Can Expect:
To help enhance the fan experience, Valkyrie is developing new ways of processing timing and scoring data. Our scientists are writing code that measures how many times a car was passed or how many traffic passes it made.  This code can quantify certain effects such as the most traffic encountered for a driver on one lap, the average time a driver lost with lap traffic, or how many clean laps a driver had during his or her stint. These new statistics quantify an important part of sportscar racing that often plays a part in race results and gives teams the insights they need to make informed on-track strategy decisions.
With some races having more than 50 cars competing, there are dozens of storylines for each team that interact and influence each other, many of which are not easily seen in results or on TV. Valkyrie will continue to develop new statistics throughout the racing season that give fans more information about how their favorite cars and teams are performing.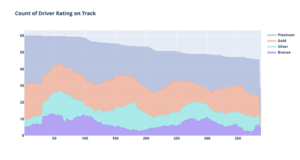 What the Teams Can Expect:
Valkyrie's partnership with United Autosports is focused on developing AI-powered tools that provide new insights to engineers and strategists to inform critical strategic decisions during the race. Our team is working to translate these newly discovered into a real-time strategy tool that will predict the best strategies given certain race scenarios. One element that will contribute to the goal of a real-time strategy algorithm is a database of endurance races that automatically analyzes and detects important information or patterns that emerge around race results. This database allows the team to quickly review past races, without having to manually re-watch or analyze past events. Knowledge of these patterns can arm engineers and strategists with insights that influence critical race decisions, such as whether or not to pit during a full course yellow. This same platform can also be used to review the team and driver's performance post-race by automatically generating a report that details the team's performance when the race concludes.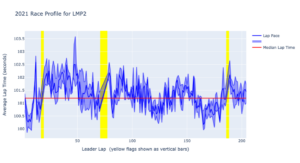 Where Are We Headed?
As with any high-speed or high-tech industry, small errors can come with great consequences. Valkyrie is leading the charge to implement and develop new AI techniques in motorsport that give teams and engineers fast access to new information that can allow them to make better decisions. The next generation of hybrid prototypes will present even more opportunities for AI to help optimize performance, and teams will undoubtedly need to develop or improve their own AI capabilities to stay at the cutting edge. In this next generation, fans will also gain an unprecedented view into the intense competition at the heart of racing with the help of AI. Valkyrie is working to be a key part of the growing technological revolution in endurance racing.