After a ruff 2020, everyone is begging for something to look forward to during the new year, and ,Puppy Bowl XVII is just what the veterinarian ordered. This Sunday, the 69 rookie pups of Team Ruff and Team Fluff will go paw-to-paw in search of trophies and treats. Valkyrie is back with a new and improved Pup Predictor to answer the fans burning questions.
At last year's game, Team Fluff showed off some new tricks and secured a 63-59 victory over defending chomps Team Ruff, resulting in a dead heat of 3-3 for the last six games. Team Ruff weren't the only ones whimpering about the outcome, as Valkyrie's 2020 Pup Predictor data model had anticipated a strong 67-49 win by Team Ruff. This year we have gone back to the pawing board, retraining our model to dig up some better results.
As in the NFL, puppers get 7 points for each touchdown and 3 points for each field goal. If you're new to the game, check out ,this great Vox article for a breakdown of all the Puppy Bowl rules.
The 2020 Pup Predictor was trained on player statistics such as age and breed, previous Puppy Bowl outcome data, and general breed characteristics such as energy level, intelligence, and amount of shedding. Unfortunately, we were not able to fetch all of the same data to feed to the model in 2021, as Animal Planet has kept a short leash on the ages and hometowns of this year's pup-ticipants, possibly to prevent shelters in those areas from being hounded by Puppy Bowl superfans. Make no bones about it, we weren't just going to roll over when faced with a challenge, so the 2021 Pup Predictor chewed through the miniature data set, estimating which pups will score the most points in Puppy Bowl XVII and which team will bring home the bacon snacks.
Data Collection & Modeling Approach
In previous years, our team conducted a vigorous data collection process. Pup-ologists watched hours of puppy bowl games, measuring important variables such as cuteness, nap time, and belly flops. Since this is the continuation of a pet project from last year, we were able to reuse the data we had buried in the Valkyrie back yard from previous Puppy Bowls. Like a dog sniffing around the kitchen floor, we let nothing go to waste and know that the best data to analyze are those that you've already collected.
Animal Planet's annual showcase returned this year to include photos, breed info, and team affiliation of each pup-ticipant. Missing in 2021 are the ages and hometowns of the players, which is a good reminder to always microchip your data for easy identification. Though we still have the ages and hometowns from previous years, we had to drop these features from our 2021 model, which made us whimper a little.
Post-Game Recaps
The Valkyrie pack had previously tracked down highlights and recaps from historic Puppy Bowls, giving us the details of which pups scored field goals and touchdowns and which received penalties for ruffing the passer or dereliction of doodie.
Dogtime Breed Characteristics
Dogtime is a treat when it comes to comparing breed characteristics like friendliness, health, and exercise requirements. For our data model, mixed breed pups were given average scores depending on their known heritage.
American Kennel Club & Wikipedia
We groomed publicly available data from the AKC and rounded it out with bites of information from Wikipedia to provide features for breed heights and weights when full grown. These features served as leading indicators of puppy performance during the big game.
The 2020 Pup Predictor was a multiple linear regression model estimating the total score of each puppy and chewsing the winning team from a simple sum of those scores. While our Pup Predictor successfully predicted last year's Most Valuable Pup, our prediction of the 2020 winner flopped like a Basset Hound's ears. Any serious data science project like this is bound to have some teething issues. A linear regression model does not always listen when told to sit, stay, or come. For this year's application a logistic regression model is much better behaved.
The 2021 Pup Predictor uses a logistic regression classifier to determine whether a borker is expected to score any points at all and a separate classifier to predict which roverachievers are likely to score multiple times. The team scores are then totaled based on the type of scoring predicted.
---
Game-day Predictions
Valkyrie's Retrained Pup Predictor shows Team Ruff shaking off last year's defeat with a final score of 55-40 over Team Fluff.
---
Puppy Podium Predictions
Game MVP: Peaches on Team Ruff with 14 points.
Breed: American Fox Hound
Team: Ruff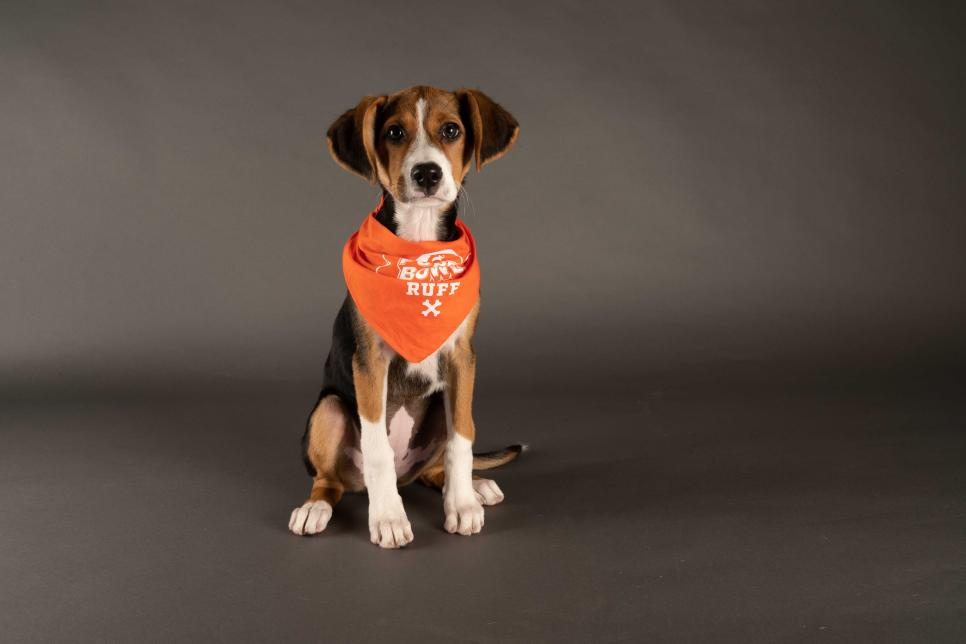 All those hours playing fetch are really paying off for Peaches. Our model predicts she will run away with the highest score, fetching 14 points.
Fluff MVP runner ups: Chunky Monkey and Ray with 10 points each.
Breed: Chow Chow/Irish Red and White Setter
Team: Fluff
Chunky Monkey is a pup that knows how to keep his eyes on the treat. We predict he'll devour 10 points.
Ray
Breed: American Staffordshire Terrier/Chow Chow
Team: Fluff
Ray is always ears up and paws ready for some competition. We predict his playful posturing will score him 10 points.
Ruff MVP runner up: Athena with 10 points.
Breed: American Staffordshire Terrier/Chow Chow
Team: Ruff
Don't count out Athena with her warrior spirit. She's pawed up and ready to score 10 points.
Honorable Mentions
Jett
Breed: Labrador Retriever/German Wirehaired Pointer
Team: Fluff
Jett's not afraid to bust a wheelie to score some points. His energy makes this pup one to keep an eye on.
Hank
Breed: Dalmatian
Team: Fluff
There's a reason they call this pup Hank the Tank. He could easily bulldoze his way to a win.
Hall of Underdogs
Pacific
Breed: Chihuahua/Miniature Pinscher
Team: Fluff
Top contender for most likely to eat a treat and fall asleep.
Spaulding
Breed: Hairless Terrier
Team: Ruff
Scritches, yes! Points, Spaulding will pass. He's here for the fun and a pup-ticipant trophy.
---
Additional Honorable Mentions include: Apollo, Hope, Cosmo, Stitch, Sonic, Aaron Pawgers, Argos, Foxy Cleopatra, and Bingo. To see a full bio for all of the Puppy Bowl XVII contestants, visit Discovery online. Who will take the spot as top dog in the Puppy Bowl XVII? Tune in this Sunday to find out!
Where to Watch:
Date: Sunday. February 7th
Time: 2pm EST | 1pm CST
Channel: Animal Planet