The entertainment industry is being transformed by applied data science. As consumers stream music, movies and TV shows, their data is being captured to inform a new age of personalized entertainment. The industry is becoming more data-driven and competitive, leading to more precise insights and consumer satisfaction.
As data science is becoming more widely adopted throughout each industry, our team at Valkyrie has put together a "Science, Applied" blog series, exploring the different ways in which various industries are leveraging AI/ML capabilities. In this series we will discuss different trends and common ways businesses are using their data to improve customer experience, increase productivity, and create competitive advantages.
Glossary:
Data Science – the practice of turning raw data into insights that decision makers can interpret and act upon without needing technical skills. Data scientists use math, computer science, and many other techniques to harvest maximum value from data.
Machine learning – a computational method for automating pattern recognition.
Artificial intelligence – the ability to use intelligible data, with the help of programming tools and techniques used in data science, to create capabilities that allow a machine or program to expeditiously perform tasks that reduce human effort.
In this post, we delve into companies in the entertainment and media industry that are currently adopting AI/ML capabilities for competitive advantage. Companies like Warner Media, The Walt DisneyCompany, NBCUniversal, and Netflix are applying these rapidly developing technologies to improve operations and to gain advantages over their competitors. In fact, ,one article stated "three out of four c-suite executives believe that if they don't scale AI in the next five years, they risk going out of business entirely."
We make decisions all the time, ranging from trivial to life-altering. For the first time in human history, science is mitigating the challenges of the decision process. Our field of science exists to do two things: to automate the tedious and to assist in difficult decision making. We take the simple, repetitive decisions that take up valuable time, and we automate them. At the other end of the spectrum, we apply machine learning techniques to garner insights that help inform the toughest decisions business leaders face every day. These two applications of AI and ML allow companies to take more action, more successfully.
AI/ML in Entertainment & Media | Automating the Tedious
Maximizing Advertisement Relevance
The pairing of advertisements with relevant media improves the success of advertisers and increases the revenue of distribution platforms. However, matching ads with appropriate content at anything beyond the most general level used to be a laborious, manual task. ML techniques such as natural language processing (NLP) and computer vision (CV) can automatically identify themes, contexts, and settings in media. Once the content has been labeled by a system, ads can be paired with specific content and target specific populations. NBCUniversal has been using such a platform to improve the relevance and timing of TV ads for a number of years. ,Josh Feldman, head of marketing and advertising for NBCU, reports double-digit percent increases in brand and message memorability during trials of the platform. "We've been doing this on a manual basis for a long time—but now we're going to be able to do it at scale," Feldman said.
Customizing the User Experience
One widely-known ML technology is a recommendation system, an algorithm that offers personalized products to online consumers. When applied to media and entertainment, recommendation engines can provide tailor-made customer experiences that would not be feasible with a manual process. Spotify is one of the largest on-demand music streaming applications today. With a catalog of over 50 million songs and podcast episodes, this growing company has a track record of exploring various fields of technology by leveraging AI and ML technologies to improve user experience. One example, as described in an ,article by "Data Science Central", is 'Discover Weekly', which reached 40 million people in the first year it was introduced. Each Monday individual users are presented with a customized list of songs. The recommended playlist comprises tracks that a user might have not heard before, but the recommendations are generated based on the user's search history pattern and potential music preference. Machine learning enables the recommendations to improve over time as it learns the user's preferences. Not only is it built to keep users returning, it also enables greater exposure for artists who users may not search for organically.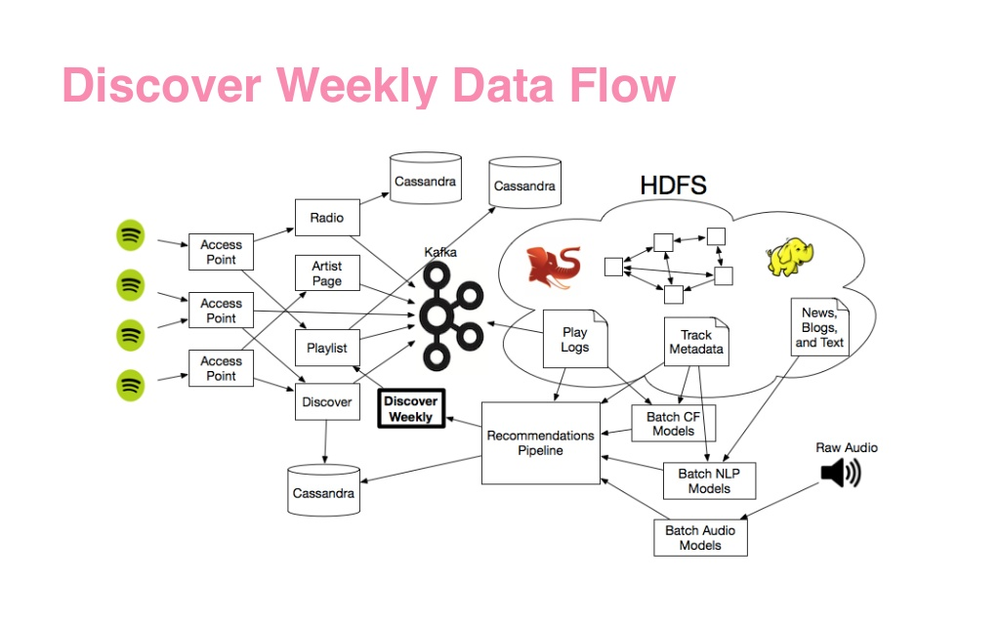 AI/ML in Entertainment & Media | Assisting the Difficult
Revenue Projections & Rapid Assessment
Development and pre-production decisions depend on a multitude of factors and impact many potential subsequent revenue streams. Everything from casting choices to release schedules will affect various market segments or distribution avenues in different ways. Machine learning models are able to estimate demand, customer sentiment, and revenue under a variety of conditions, enhancing the data available to inform the decision-making process for business leaders. The predictive power of machine learning can enable executives to make informed choices and allow a much shorter turnaround time than traditional forecasting. This year, ,WarnerBros. signed an agreement to adopt Cinelytic's predictive data-driven project management platform as part of their development and distribution process. Cinelytic founder Tobias Queisser explains, "The system can calculate in seconds what used to take days to assess by a human when it comes to general film package evaluation of a star's worth."
Automating Content Generation
Today, we see AI and ML applications being integrated to solve challenges throughout industry. In a previous Valkyrie project, our scientists were able to demonstrate how large media companies are able to improve the tedious process of content generation. Using a tailored combination of both Computer Vision (Object Detection) and Natural Language Understanding and Processing (NLU & NLP), our team created a unique, AI-driven way of matching content to images. The Valkyrie team used a combination of publicly available tools as well as highly customized, domain specific models that were trained based on a large proprietary set of images and text blocks. Our goal was to empower our client's creative team to optimize their content generation process to be easier and more efficient. The long-term implications point to incredibly exciting possibilities for AI-automated content generation.
The previous application used by Valkyrie, along with the aforementioned entertainment and media companies, are just a few examples of how businesses are making their data work for them while improving customer experience and creating competitive advantages. Continue following our "Science, Applied" blog series to explore the different ways that other industries that are incorporating AI and ML capabilities into their business structure.