The wait is over and the results are finally in. In our last blog we unveiled our new and improved Puppy Predictor model​ for the Puppy Bowl XVII. In contrast to the previous year's puppy bowl roster, this year we were limited on the data that we were able to gather from the pup-ticipant profiles. Though lacking significant data such as their ages, locations, and interests, our data science team remained paw-sitive and managed to successfully retrain our model to dig up a few predictions on who will be the MVPup and which team will go home to fame and furtune.
For more in-depth information on our modeling approach and this year's top picks, check out ​our previous blog.​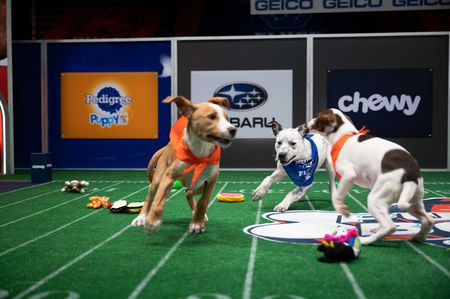 Final Score

This year, the underdogs of Team Ruff took home the bone and won the 17th annual puppy bowl with a dramatic last minute play. Team Ruff was able to score the winning touchdown as the clock ran out leaving the final score of 73-69
Overall, the puppy prediction model projected Team Ruff to take the victory at an overall final score of 55 points, just 18pts shy of the actual score of 73 points.
Top MVPup & The Paw-pular Vote
Team Fluff's boston terrier puppy, M​arshall​, blew the competition on Sunday, taking home the puppy bowl MVP title. He proved that his hearing impairment was no match for his love of the game.
This year's most talked about contender was C​hunky Monkey​, the black and white Chow Chow/ Irish red and white settler. Fans stormed Twitter with messages of love and adoration after Chunky Monkey pranced onto the field and immediately fell asleep. She earned praises for "Most Valuable Mood".
Our puppy predictor projected Peaches on Team Ruff to win MVP this season, and
forecasted Chunky Monkey as the runner up.
In conclusion, similar to any other model, we're only as good as our data. It is our hope that next season Animal Planet will provide more background on each of the pup-ticipants, so that we can continue to build and improve our puppy predictor. Meanwhile, our data scientist will continue retrieving data in order to retrain our predictor throughout the off season. A round of a-paws and thanks to all of the paw-some players in this year's event. In addition to going into the Howl of Fame, it's been reported that they have all found their furever homes. For more details on the game and instant replays, check out A​nimal Planet​ online.