When a new team member starts at Valkyrie, they're immersed in our unique and inspiring culture that is derived from our values. These values are integral to our work, our treatment of others, the caliber of our deliverables, and the bonds of our team. We ensure that these values: Grit, Honor, Love, Curiosity and Hope, are at the forefront of all that we do at Valkyrie. Whether we are tackling a new challenge for a client, dedicating our work to philanthropy, pursuing a new product or field of research, values are the most integral part of Valkyrie's identity.
Throughout the tumultuous year of 2020, these values have been our guiding light to making critical business decisions. Many times these values have been the difference between surviving and thriving as a team. Like many of our colleagues, the start of the pandemic brought chaos to our portfolio and pipeline. We committed as a leadership team that Valkyrie would not have any layoffs during this pandemic, and our grit enabled us to make good on that promise. The grit exhibited by the entire team turned what could have been a catastrophic year, to one where Valkyrie grew by 57%.
In the midst of a global pandemic and conflicting information that followed, our team of scientists have sought to preserve the honor above all else. We were ,,engaged by Global Medical Response as well as a government task force to build predictive models to allow decision makers to best prepare for the spread of the virus at the start of the pandemic. By sifting through mountains of data, our team uncovered invaluable insights into how the virus spreads and the best ways to prevent it from doing so. We had hard conversations with leaders and clients about the compromises the pandemic presented, and ensured that the integrity of our work was never compromised. It is our job to remain purveyors of truth which necessitates a commitment to remain apolitical and to continue to champion the pure revelations, unadulterated by bias, that serve both our community and clients.
We're deeply humbled that our team decided to forgo their well-earned profit distribution at the beginning of the year and instead donate it back to our community. We chose three organizations, ,,The All Clear Foundation, ,,Code2College, and the ,,All Together ATX Fund. It was out of this great love for our community, that ,,Valkyrie Virtue was born. Valkyrie Virtue is the philanthropic arm of our company and a vehicle for us to positively impact the world with our scientific abilities. It encapsulates our pro-bono services, our Women in STEM scholarship, and our community giving. Over the course of the year, we've donated over $223,000 in pro-bono services as we provide our applied machine learning services to nonprofits making a strong impact.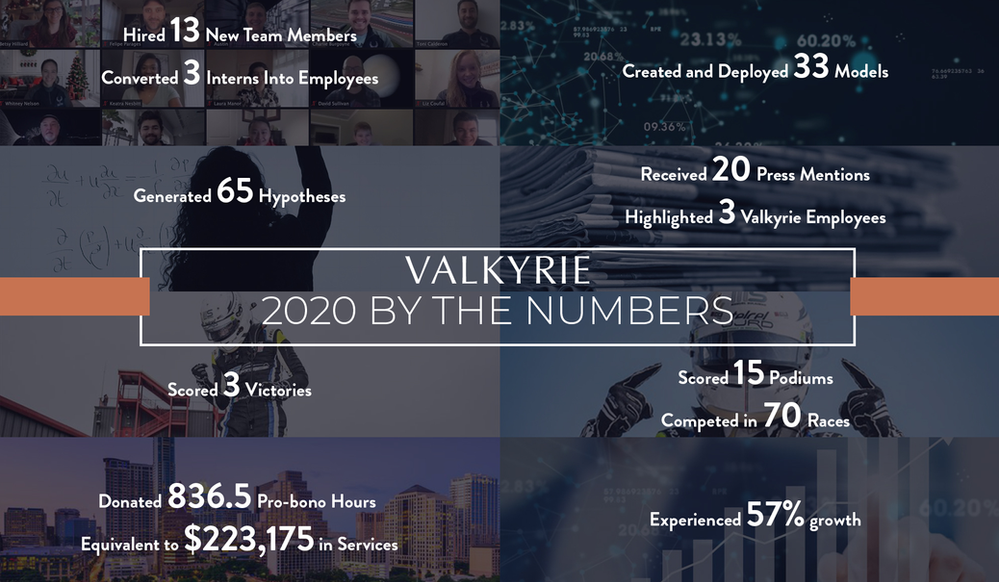 In parallel, we've grown our racing efforts through the Valkyrie Velocity team. On the racetrack is where our passion for science and curiosity meet. Originally, we sought to partner with a team to create living demos of our data-driven capabilities on the track. Over the past year, Valkyrie Velocity has evolved to be not just a scientific sandbox for our capabilities, but has paved the way for new clients and team members (while giving us an excuse to cheer on the team at the track).
Our company is incredibly grateful to have a year of great growth in the midst of so much turmoil. We are humbled to have partnered with stellar nonprofits, corporations, and government agencies to uncover truths in order to support data-driven decision-making. It is our great hope that we continue to champion these values throughout the remainder of our careers. A common phrase heard at Valkyrie is, "In any area of your life, you are always progressing or regressing, so choose wisely". In 2020, we're proud of the progress we've made and look forward to a brighter future ahead.
The unofficial Valkyrie mantra is "progress or regress, nothing is static", and our embodiment of these values is no exception. We will continue to live these values, not just state them. We will find new opportunities to love others, to hope in our future, to make the honorable choice, to look at our world with a curious wonder and to rely on our grit to remain steadfast. Vigilance in the preservation and manifestation of these values is core to Valkyrie's culture, which inspires our team and talent, without which we are nothing more than a handful of laptops and standing desks.